My favourite movies of 2012
Ok, so, this update has been postponed since January, but late is usually always better than never, right? On the one side, it's also nice to be able to present this list after the end of the awards season, as I can truly and honestly claim that my list hasn't changed one bit since the awards season started. I am however extremely happy that Argo won best picture and I was rooting for it since the day I first saw it. But was it my favourite movie of the year? No, definitely not. And why? Let me explain...
Before you view my list, it's important to understand that there is a huge difference between what I think the best movies of 2012 were and which my favourite movies were. For a movie to be my favouruite, it needs to touch me on a certain level, and in most cases, the movies that really get to me are those with great imperfections that unfortunately mean they will never receive critical acclaim. So, when it came to choosing my favourite films, I gladly accept these imperfections and instead choose to focus on the one or two elements that made these movies truly memorable to me.
So, without further ado, I proudly present my favourite movies of 2012:
10. The Hobbit

Whilst by far not the best LOTR prequel that could have been made, the Hobbit was a welcome throwback to the enchanting world of Middle Earth.
9.

Hunger Games



A surprisingly daring and brutal teen movie that took no prisoners. The theme of survival really struck a chord.
8.

The Amazing Spiderman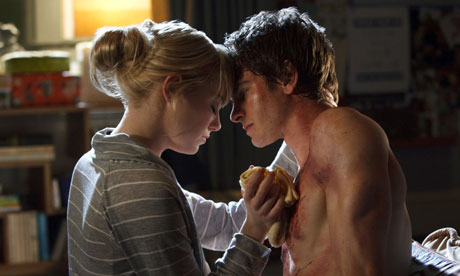 This hipster take on the Spiderman franchise felt much more true to Spidey's original comic book roots and for that alone, I applaud it.
7. The Avengers

The sheer build-up to this film alone made its inevitable release one of the highlights of my 2012. Loki was a fantastic villain and seeing some of my favourite superheroes joining forces on the big screen was priceless.
6. Silver linings playbook

There's usually one movie each year that resonates with me simply for its amazing character studies and brilliant acting. In 2012 for me, that movie was Silver Linings Playbook.
5. Looper

As a big fan of sci-fi films, I was probably a bit biased about this one. Nonetheless, the interesting new take on time-travel and its practical implications really made me think.
4. Chronicle

Easily the most unique, refreshing and surprise hit of 2012. Chronicle struck me with a unexpected sense of doom that fondly reminded me of the Blair Witch Project. Weirdly enough, this came via the vessel of a teen action movie.
3. Prometheus

Prometheus was definitely the most beautifully terrifying film of 2012 for me. Amazing alien set designs, a powerful score and more than a few horrific moments all made for an unforgettable experience.
2. Argo

Setting its technical brilliance aside, no other movie in 2012 instilled nearly an equal sense of cinematic urgency within me. At one stage, I was actually jumping up and down, something I don't even do in the gym. What a triumph for one of my favourite directors.
1. John Carter

Without a shadow of a doubt, John Carter was my favourite movie of 2012. Whilst all of the other films on my list connected with me on some level, the emotional connection I have with John Carter far exceeds any other film of 2012. John Carter transported me back to a time in my childhood that was characterized by amazing protagonists like He-man and Xena. It was a time when storytelling still felt pure to me and a hero truly inspired his audience on more than one level. I also truly appreciated the film's mysterious and complex villain, the authentic set pieces and the simple storyline that was everything it should have been and nothing more. In short, it was all the things Avatar didn't deliver from a story perspective, but sadly, John Carter's conservative use of Hollywood gimmicks meant that mainstream audiences just didn't get the whole experience.
Feel free to read my full review here:
http://www.meerkatburrow.com/2012/03/john-carter.html
Other honorary mentions:

21 Jump Street
Dredd
Django Unchained
Moonrise Kingdom
Cloud Atlas